The mission of All Seasons Restoration is to provide superior customer service matched with unbeatable job performance and top-quality products, all for the best possible price for our customers.
With over 40 years of general contractor experience, All Seasons Restoration is a leading commercial and home restoration company in the Midwest.
We stand apart from our competitors for two important reasons: unmatched expertise with caring professionalism and a reputation you can count on, backed by a proven track record. Our company got started because customers needed a home repair business and general contracting company they could trust. All too often, we would hear horror stories of giant corporate franchises taking advantage of people, overcharging for repair work, and delivering unsatisfactory results. On multiple occasions, we have remedied the substandard work on homes and businesses that was completed by one of our competitors.
Quality, Accountability and Integrity
Our crew is made up of professionals who are masters of their craft, and they can achieve the goals you have for any project you can think up. If you cannot tell, we love this line of work! It is our pleasure to help Hoosiers turn a dream into reality and turn a house into a home. Whether you just purchased a house and want to change some things to make it your own or you have to rebuild your home from the pieces left by a merciless storm, All Seasons Restoration is the team you want on your side. Our passion for this business shows in our work, and we have a trail of satisfied customers to prove it.
We have been steadily growing, something we plan to continue to do, and that means we can quickly deliver the top quality work and customer service we are known for. We have the resources and manpower to take on any indoor renovation, outdoor restoration, and construction project on homes and businesses across Indiana. We also have the essential bulldozers and trucks for demolition work and debris removal. Whether a tree fell through your living room, hail battering the roof of your home, or your house sustained damages from fire, floods, or tornados, All Seasons Restoration can handle your repair, building, and insurance needs.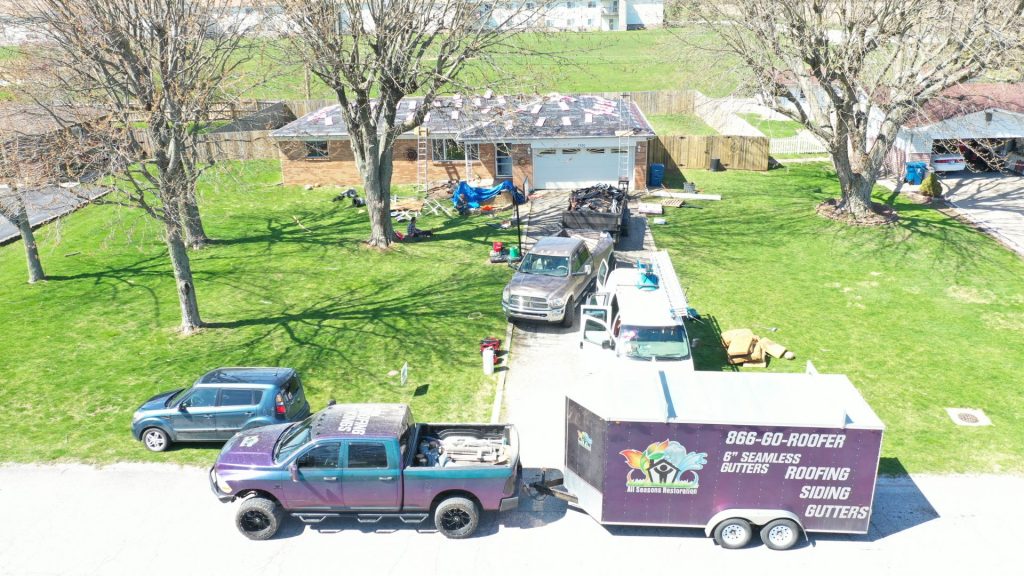 We take pride in our customer service. We will take on any project from demolishing structures and building houses; to room renovation, roof replacement, gutter installation, and everything in between.
We work with your Insurance Company
We are a preferred contractor with Indiana Farm Bureau and State Farm Insurance meaning we will handle your insurance claim from beginning to end. If any part of your home is damaged by a storm, fire, flooding, or other natural disaster, contacting a restoration company is the truly the easiest way to get the property fixed. Once you contact us, our team will quickly come to your property to inspect the damage, document the information, and generate a repair estimate for your insurance company. We get the claims process started faster than an adjuster could get to your property meaning we can get to work right away and you can avoid the entire insurance company headache.
When it comes to property damage claims, so much more than just your roof, siding, and windows are covered. Many exterior features like gutters, fascia wrapping, and weatherproofing measures can also be covered. We will work with your insurance company to get any possible upgrades for your restoration project. We have the materials and equipment available to supply any approved upgrades, and offer top quality products at an unbeatable price. Plus, we guarantee our work! Our products are warrantied and so is our service—we offer extended warranties on all of our labor.