Roof Repair in central Indiana
We offer complete local roof repair services to greater Indianapolis and beyond!
Weather in Indiana can be downright devastating—from high winds and heavy rain to hail storms and more. To protect your home and prolong the life of your roof, you should have it checked after any severe weather for needed repairs. Ignoring even minor damage will definitely lead to more trouble for you down the road. Why take your chances when you can call a trusted local business. No matter the cause of the roof damage, All Seasons Roofing & Restoration has your solution. Our licensed, bonded, and insured roofing contractors are available 24/7 to make roof repairs for homes and businesses in need of immediate attention. Contact us today for a free inspection.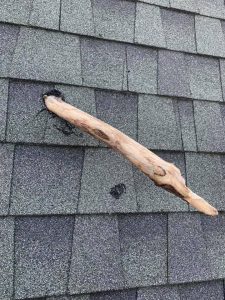 Common Signs of Roof Damage
The last thing you want is a damaged roof, but here is a great list to tell if you are in need of immediate roof repairs
You Can Trust The Professionals At All Seasons Roofing & Restoration
We know how hard it can be to find the right roofing company. We have extended our hand and are offering our roof repair services to all Hoosiers across the state.
If your roof sustained damage from a recent or past storm, call the professionals at All Seasons Roofing & Restoration. The sooner we come out to inspect the damage, the better chances you have of stopping problems before they start. Even if you have waited to call for repairs, our roofing contractors and emergency roof repair experts can fix anything that may have been affected by storm damage. We offer all of the essential roof repair services for home and business owners, and are a preferred contractor with Owens Corning. The best part is you may have no out-of-pocket expenses to get your roof repairs made! Our roofing experts also offer homeowners insurance claim assistance to guide them from a damaged roof to a new one.